Welcome To The Best Martial Arts Sport Academy
Activolution sports academy is a Top Martial Arts academy in Dubai dedicated to promoting health and physical activity through the use of Jiu Jitsu training and fighting sports courses. Our goal is to provide a platform for individuals at all levels within our community – encouraging better public health; ultimately benefiting everyone! We strive to provide the best scientific knowledge and analysis of research, studies, theories, and practical work within sports-related fields. We create a stimulating environment for fighting courses as well as productive intellectual endeavors through modern technology solutions by collaborating with both local sources and beyond our regional borders.
The age-old practice of Jiu-Jitsu provides more than physical training – it encourages principles to be ingrained in everyday life through a holistic approach. Combining instruction, observation, and live experience with feedback for progress allows individuals to gain memorable lessons as well as increased strength, flexibility, fitness, and self-defense skills in our adult Jiu Jitsu classes. Practicants can also take practical steps beyond the mat to see an improvement in their focus, energy levels, and well-being.
Our sports academy of martial arts works hard to empower teens by improving fitness and self-esteem. We create a safe, nurturing environment in which martial arts can be learned; here, we not only celebrate accomplishments but also recognize the progress made while learning those skill sets.
Our Jiu Jitsu for teens will help teens build a strong, healthy foundation. By learning Jiu-Jitsu, they'll be put to the test in activities that simultaneously work all their muscle groups for overall physical development and well-being. Plus, Jiu-Jitsu teaches our youths invaluable life lessons, from respect for one another to great character traits and a positive perspective on life – making each individual better equipped with valuable skills needed today!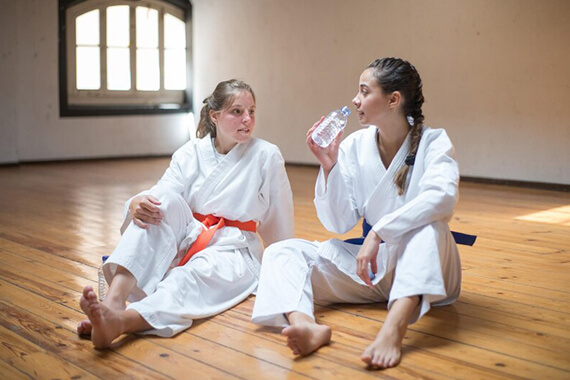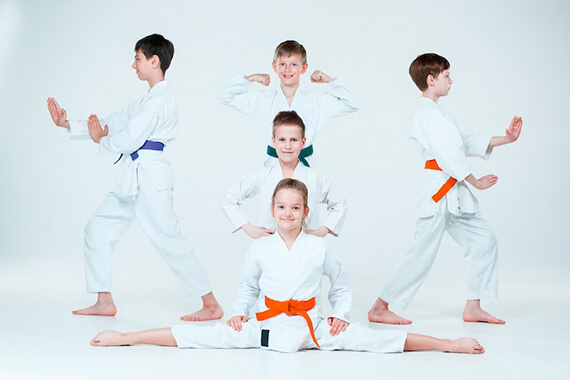 Our Kids Jiu Jitsu Class offers children ages 3 -15 an opportunity to embark on something truly life-changing. We help youngsters build strong moral character and the determination necessary for them to excel in any of their future endeavors by teaching core values such as respect, focus, discipline, cooperation, and resilience.
Kids' Jiu-Jitsu is an engaging contact sport that develops more than just physical proficiency – it cultivates strength of character, too. As children learn the discipline and excellence integral to martial arts under the guidance of our world-class instructors at our family martial arts academy, those traits transfer from their time on the mats into other areas of life, such as home and school. With Kids' Jiu-Jitsu, your child can become a real champion both inside and outside of practice! Embrace the inclusive community by enrolling in our all-encompassing universal martial arts academy today.
At Activolution sports academy, our unique classes for women's Jiu Jitsu are specifically tailored to empower and equip them with the necessary knowledge for self-defense. Our program offers an exciting opportunity to build strength in a safe yet challenging environment – allowing you to reach your fitness goals while also learning invaluable techniques of defense! Join the martial arts fitness academy today as part of this supportive community.
The main goal of Activolution sports academy's taekwondo training center is to create a nurturing and inspiring environment where children can become fitter, stronger, and more confident. Our team of experienced martial arts trainers will guide them through their journey step-by-step until they reach the level that best fits their individual abilities – all while never giving up! As our motto states: "A Black Belt is a White Belt that never gave up!" We strive to instill positive habits in each child, so they can sustainably build self-esteem over time — with lasting effects into adulthood.
Our comprehensive program focuses on developing students' physical fitness and coordination. Through Tae Kwon Do, children will not only reap the enormous benefits of its challenging but empowering movements that strengthen their growing bodies; they will also learn a sense of respect for others while cultivating character traits such as positivity. With tailored classes catered to different age groups, we ensure each student is tasked in accordance with their ability level – one step closer towards becoming martial arts masters!
The importance of martial arts for self defence
Self defence is an important skill to possess in life, and there are few better ways to learn than through martial arts. A key benefit of martial arts is the development of confidence. Along the way, practitioners will learn a number of skills that they can use in self defence situations when needed – such as breaking free from holds and strikes that can incapacitate or deter attackers. On top of this, studying martial arts promotes physical health through exercises such as strength training, conditioning, and cardiovascular workouts. While some forms of martial arts focus more on competition and sport, self defence is at the heart of many martial art styles – Tae Kwon Do and Jiu-Jitsu being two examples that encompass a range of effective defensive techniques. For those looking for an activity that is mentally stimulating yet physically challenging, martial arts and its associated benefits should be highly considered for self defence purposes.
Get in touch with Activolution sports academy for the best self defence classes
If you're looking to participate in self defence classes, Activolution sports academy teaches the best martial arts for self defence. Our knowledgeable instructors are passionate about helping students become more confident and agile – enabling them to sharpen their physical, mental, and tactical skills. We offer a supportive environment where children and adults alike can learn in a safe, secure, and motivating atmosphere with trained professionals. Whether you're interested in developing your technique or just want to stay fit and active, join the United Martial Arts Academy today! Give us a call or visit our website to stay updated on our upcoming workshops and classes!